The Republic of Poland is situated in Central Europe. It shares land borders with Germany, Slovakia, the Czech Republic, Ukraine, Belarus, Lithuania and Russia (Kaliningrad Oblast). The Baltic Sea coastline stretches for 440 km and forms the country's northern border.
For more information about Poland please visit:
https://www.poland.travel/en
Poznan is located in Western Poland and lies halfway between Warsaw and Berlin. It is the capital of the Greater Poland region (Polish: Wielkopolska) - one of the most economically developed regions of the country and the historical cradle of Polish nationality. With ca.550 000 inhabitants Poznan is an exciting city with many faces – a major business and academic centre and a place rich in historical heritage, with varied cultural life and leisure opportunities.
For more information about Poznan please visit:
http://www.poznan.pl/mim/turystyka/en/download-brochures-about-poznan,p,16577.html
About Poznan University of Economics and Business (PUEB)
Established in 1926, PUEB is one of the oldest and most prestigious economic universities in Poland and the oldest business university in the region of Greater Poland. It isa teaching and research institution renowned for academic excellence and credibility in economic analysis.Wecontinuously developour international cooperation andrelations with business in order to maintain the leading position in economic expertise and strong academic standing.
Main facts and figures:
ca. 11,000 students and over 500 researchers,
5 faculties: Economics, International Business and Economics, Informatics
and Electronic Economy, Commodity Science, Management,
about 150 international partner institutions and many students and academics involved
in international mobility programmes,
located in the city centre.
If you would like to know more please visit:
http://ue.poznan.pl/en/
or
https://www.youtube.com/watch?v=b0HB3Go0IsI&feature=youtu.be
By plane:
Poznan Lawica Airport is located only 7 km from the city centre. There are direct, daily flights to Poznan from Warsaw, Frankfurt, Munich or Copenhagen.
By train:
There are direct train connections to Poznan from Berlin HBF or Warsaw Central Station – the journey takes ca. 2,5h in both cases.
Average times of travel to Poznan
Plane (direct, regular flights):
Copenhagen – 50m
Stockholm – 1h25m
Oslo – 1h35m
Frankfurt - 1h20m
Munich – 1h20m
Düsseldorf – 1h20m
Warsaw – 55m
Train (direct connections):
Berlin – 2h25m
Warsaw – 2h30m
Car (motorway):
Berlin – 3h00m
Warsaw – 3h00m
How to get from the airport to the Conference Venue?
1. Buy a public transport ticket (4.60 Zloty) at the airport (for example in newspaper stand). Payment only in Polish Zloty. Travel time is 21 minutes by bus so we recommend You buy a normal ticket for 40 minutes.
Attention!
You will not buy a public transport ticket from the bus driver!
2. Go to the bus stop located at the airport (1 minute on foot).
3. Go to bus no. 59, which goes in the direction of "Poznań Główny". Travel time is 21 minutes by bus.
4. Go out at the stop "Rondo Kaponiera". Near the bus stop is the Mercury Hotel and the Sheraton Hotel.
5. Go towards the Castle as on map and image (8 minutes on foot). On the right you will see the Conference Venue.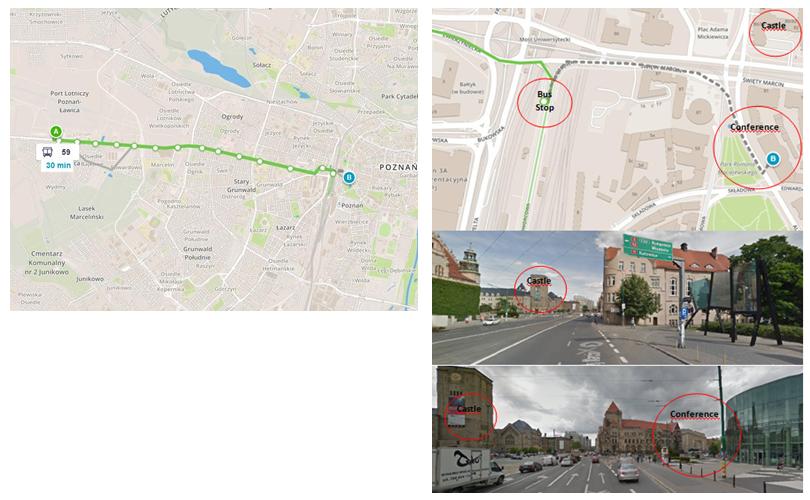 Transport in Poznan
Public transportation in Poznan is well-developed and includes both trams (light trains) and buses. Taxi services are also easily available. Neither taxi nor public transportation fares are high.
During the registration you will receive an identifier which will allow you to use public transport without any charge. In addition to the identifier when traveling by public transport, you must have a document of identity (for example passport).
Currency in Poland
Polish Zloty (PLN) 1 EUR = ca. 4.5 PLN;
1 PLN = ca. 0.22 EUR
Typical prices
Sandwich 5-10 PLN
Lunch 10-40 PLN
Water 1,8-3 PLN
Beer 5-10 PLN
Coffee 5-15 PLN
Taxi from airport to the city centre 20-40 PLN
Cigarettes 12-20 PLN
Hotel night 150-500 PLN
Time Zone in Poznan
Summer: CST (GMT+2)
Winter: CET (GMT+1)
Visa
Standard Schengen C-type Visa; not necessary for EU or US citizens.
Please refer to
http://www.msz.gov.pl/en/travel_to_poland/visa/
for more information.
If you need an invitation letter please contact our secretariat at:
apria2017@konf.ue.poznan.pl